Colour Trends 2023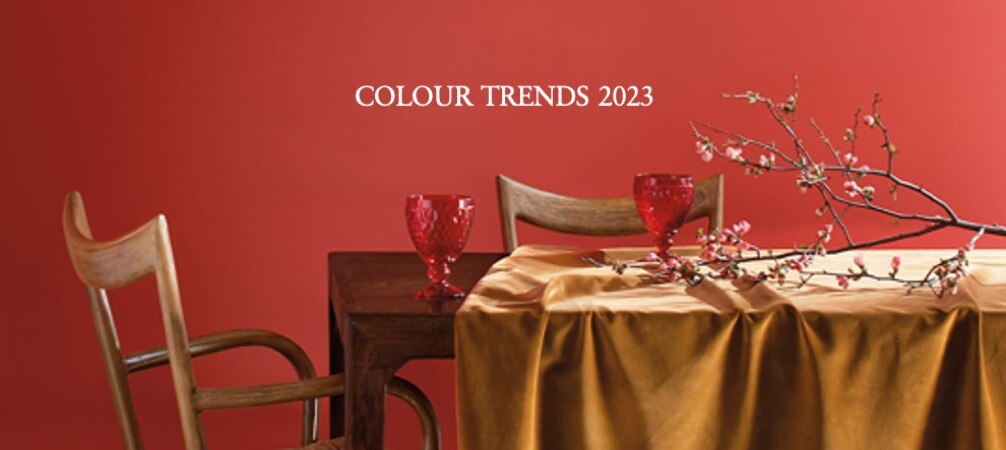 Vivacious optimism. Undeniable charisma. Joie de vivre. Raspberry Blush 2008-30 is a vivacious shade of coral tinged with pink, and it enlivens the senses with an eclectic optimism.
"Never a backdrop, Raspberry Blush is the definition of charismatic colour. This unapologetic shade of red orange had us thinking: bold, bolder, boldest." said Helen Shaw, Marketing Director at Benjamin Moore UK.
"People are ready to bring colour back into the home, taking a step outside their colour comfort zones," said Andrea Magno, Colour Marketing & Development Director at Benjamin Moore. "Raspberry Blush 2008-30 and the Colour Trends 2023 palette empower the use of statement colours that deliver delight and personality, while transforming rooms for incredible results."
Our Colour Trends 2023 palette was chosen for its distinct presence and personality. This sentiment flows through the palette as we immerse ourselves in hues that make a statement. Inspired by an artist's desire to communicate through colour, shape, and sound, Colour Trends 2023 was built to envelope you in vivacious colour. Each of these eight confident hues offer inspiration and creativity, while encouraging a push beyond the traditional to experience truly exceptional colour.
The Colour Trends 2023 Palette
Walls and panelling
2008-30
Raspberry Blush
Walls
2008-30
Raspberry Blush
Walls
2008-30
Raspberry Blush
Walls
2150-30
Savannah Green
Walls
2150-30
Savannah Green
Woodwork and door
2150-30
Savannah Green
Walls and ceiling
2150-30
Savannah Green
Right wall and woodwork
OC-57
White Heron
Walls and woodwork
2150-30
Savannah Green
Walls and skirting
052
Conch Shell
Accent Wall
052
Conch Shell
Walls and ceiling
OC-57
White Heron
Walls
2067-20
Starry Night Blue
Woodwork
OC-57
White Heron
Walls
2067-20
Starry Night Blue
Kitchen cabinets and beams
OC-57
White Heron
Walls
2067-20
Starry Night Blue
Walls and woodwork
2067-20
Starry Night Blue
Kitchen wall
OC-52
Gray Owl
Kitchen cabinets
OC-57
White Heron
Walls, woodwork and ceiling
2053-30
North Sea Green
Right wall and window frame
OC-57
White Heron
Accent wall
2053-30
North Sea Green
Walls
2053-30
North Sea Green
Woodwork
OC-57
White Heron
Bedroom wall
2053-30
North Sea Green
Hallway wall
2150-30
Savannah Green
Ceiling
OC-57
White Heron
Wall
2053-30
North Sea Green
Stairs and ceiling
OC-57
White Heron
Woodwork and ceiling
OC-57
White Heron
Lower bathroom wall and hallway wall
1444
New Age
Other walls, ceiling and woodwork
OC-57
White Heron
Woodwork
OC-57
White Heron
Bookshelf
OC-57
White Heron
Woodwork
OC-57
White Heron
Woodwork and ceiling
OC-57
White Heron
Window wall and woodwork
OC-57
White Heron
Left wall
OC-57
White Heron
Wall
2008-30
Raspberry Blush
Wall
2008-30
Raspberry Blush
Please note, on-screen and printer colour representations vary from actual paint colours